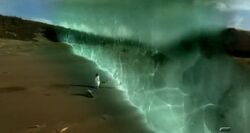 The Great Barrier is a boundary of magic between the
Old World
and
New World
, located in the
Valley of the Lost
. A people called the
Baka Tau Mana
were forced out of this land when the Barrier was constructed by the
Wizards
of the
Great War
under the leadership of
Alric Rahl
.
3000 years later, Richard destroyed the Great Barrier, allowing the Baka Tau Mana to retake their homeland, and also allowing the Imperial Order to freely begin conquest of the New World.
The Barrier was basically a maze constructed of magic. One who had the gift could be surrounded by it and killed after going through it. The Towers of Perdition are located here, and one, accessible to those with Additive Magic, could reach it and find white Sorcerer's sand. The other was accessible only to people with the gift of Subtractive Magic, and contained black sorcerer's sand.
See Also
Edit
Ad blocker interference detected!
Wikia is a free-to-use site that makes money from advertising. We have a modified experience for viewers using ad blockers

Wikia is not accessible if you've made further modifications. Remove the custom ad blocker rule(s) and the page will load as expected.