"A contradiction cannot exist in reality. Not in part, nor in whole."

This article depicts a subject within the Legend of the Seeker television series, and as such, it does not play a role within the established continuity and canon of the Sword of Truth series.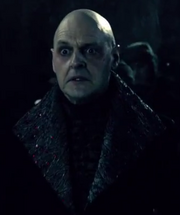 Nicholas Rahl would have been Kahlan Amnell and Darken Rahl's Confessor son, in a future that was prevented from ever occurring. He appeared only on the show, Legend of the Seeker.
Appearances
Edit
Legend of the Seeker - "Reckoning"
For more information visit