"A contradiction cannot exist in reality. Not in part, nor in whole."

This article depicts a subject within the Legend of the Seeker television series, and as such, it does not play a role within the established continuity and canon of the Sword of Truth series.
Merissa- "Fear not Sister Porsha, the Keeper of the Underworld will reward you for your sacrifice."
Porsha- "I have no fear,I long only for his embrace."
Merissa- "It will soon be yours."
Biography
Edit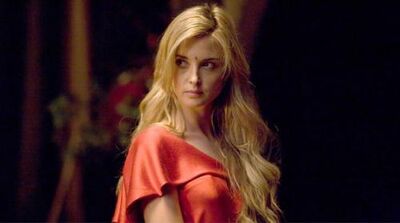 Sister Porsha was a Sister of the Dark that willing gave her life so that Sister Nicci's spirit could be summoned into her body. She appeared in the very beginning of the episode Princess in the television show Legend of the Seeker. She also seemed very devoted to the Keeper of the Underworld. Porsha and Nicci were played by Emily Foxler.
Sister Porsha was a character who appears only in Legend of the Seeker.
She has no counterpart in the books.
Her physical appearances are similar to Nicci in the books.
Ad blocker interference detected!
Wikia is a free-to-use site that makes money from advertising. We have a modified experience for viewers using ad blockers

Wikia is not accessible if you've made further modifications. Remove the custom ad blocker rule(s) and the page will load as expected.