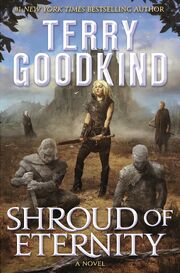 Shroud of Eternity is Terry Goodkind's 20th novel, and the second in The Nicci Chronicles. The book starts off where the previous novel, Death's Mistress, left off. Shroud of Eternity is set to be released in hardcover on January 9, 2018.
Synopsis
Edit
"The formidable sorceress Nicci and her companions―the newly powerless Nathan and the youthful Bannon―set out on another quest after driving ruthless Norukai slavers out of Renda Bay. Their mission: restore Nathan's magic and, for Nicci, save the world.
Guided by the witch-woman Red's mysterious prophecy, the trio makes their way south of Kol Adair towards a wondrous city shrouded behind time, Ildakar. But the grotesque omens on their path to Nathan's salvation―severed Norukai heads on pikes, a genetically modified monster, and a petrified army of half a million―are just a taste of the unimaginable horrors that await within the Shroud of Eternity."
Resources
Edit
Chapter guide
Edit
Shroud of Eternity has a total of chapters.
Characters
Edit
Creatures
Edit
External links
Edit
Ad blocker interference detected!
Wikia is a free-to-use site that makes money from advertising. We have a modified experience for viewers using ad blockers

Wikia is not accessible if you've made further modifications. Remove the custom ad blocker rule(s) and the page will load as expected.