Welcome to the...

FEATURED ARTICLE:
Zeddicus Zu'l Zorander
---
Zeddicus Zu'l Zorander, commonly known as Zedd, was a wizard of the First Order, who was named First Wizard during the D'Haran War. Earning the sobriquet "The Wind of Death" for his service throughout the war, Zedd led the Midlands to battle the forces of Panis Rahl, and erected the boundaries that separated the three lands of the New World. As years passed, he named his grandson Richard Cypher as the Seeker of Truth and then joined the cause against a new tyrant, Darken Rahl, and, later on, the Imperial Order.
---
IMPROVEMENT DRIVE: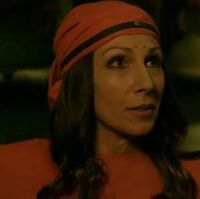 Verna Sauventreen was the Prelate of the Sisters of the Light, succeeding Annalina Aldurren after she faked her death. It was Verna who originally brought Richard Rahl to the Palace of the Prophets and subsequently helped him to escape, fufilling prophecy, after the revelation that Sisters of the Dark secretly lived within the Palace. Loyal to Richard, this bond of fidelity served to protect Verna from the powers of Emperor Jagang and she later joined his D'Haran Empire.
Unfortunatly, during the Imperial Order War, Verna would face constant threats and even personal loss; specifically in the form of the death of her husband Warren. Despite this, Verna continued to aid in Richard's efforts to defeat the Imperial Order, acting largely as the leader of all the gifted forces of D'Hara.
Following the end of the war, at the conclusion of which the D'Haran forces claimed victory, Verna remained the Prelate of the Sisters of the Light, and oversaw their efforts to help train young wizards in the use of the gift at the Wizard's Keep.
---
AFFILIATES

DID YOU KNOW?
---
QUOTE OF THE WEEK:
"...The Sisters of the Light are many things, but gentle is not one of them."
---
QUICK LINKS:
WIKI PROJECTS:
Edit templates:
Fantasy footer
Ad blocker interference detected!
Wikia is a free-to-use site that makes money from advertising. We have a modified experience for viewers using ad blockers

Wikia is not accessible if you've made further modifications. Remove the custom ad blocker rule(s) and the page will load as expected.